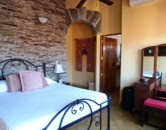 The houses here in Nicaragua are framed with steel, brick, block, or adobe. I have lived here for 15 years now and I know of only one fire in those 15 years, even though the homes here use open fires.
The homes in Nicaragua do not use electric stoves or ovens. They use open flames and cook as you would in a campfire, but they are inside their homes. It is just different out here.
The houses are generally made out of something that will not catch fire.
Posted September 30, 2014