Yes, there are indeed islands in Nicaragua.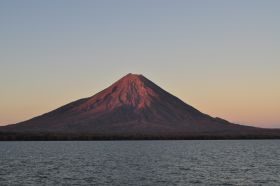 My favorite island, and perhaps one of my favorite places in Nicaragua, is the island of Ometepe. (The first two pictures are of Ometepe.)
Ometepe was formed by two volcanoes in the center of Lake Nicaragua - an excellent place for hiking, climbing, observing ancient petroglyphs, and experiencing some of the country's unique fauna and flora.
Also found in Lake Nicaragua are the Isletas, 360-some small islands located near Granada. A few have hotels or guesthouses, some have private residences or vacation homes, and many are unoccupied.
Also very popular are the Corn Islands (the last picture on the right), located 40-some miles off the Caribbean Coast. While only 5 square miles in area, Big Corn Island and Little Corn Island are home to some of the most beautiful beaches in
the country. Snorkeling and scuba diving are popular activities here.
There are other small Cayes off the Caribbean Coast and several other islands in Lake Granada. However, these are some of the better-known island destinations.
Posted March 19, 2014