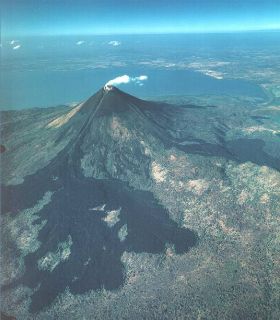 We have many rivers, lakes, and waterfalls throughout the country of Nicaragua.
Just north of the city of Managua, you will find Lake Managua, also known as Lago Xolotlán or Lake Xolotlán. Just slightly south of that, Nicaragua also has the biggest lake in the world, which is called Lake Nicaragua, and is where Ometepe Island is located.
You will find some impressive waterfalls in the northern part of Nicaragua as well. In Estelí, Jinotega, and Matagalpa, you will find a beautiful rainforest and some cascades.
(Lake Nicaragua and Volcano Momotombo, Nicaragua, pictured.)
Posted February 07, 2016