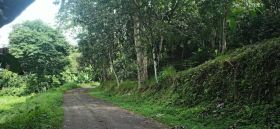 If you look at a map, you'll see Volcán Barú, an extinct volcano that erupted about 3,500 years ago. Volcán Barú is somewhere around 5,000 feet in elevation, and as you go up to Cerro Punta, which is a very rural farming community, the elevation increases.
Chiriquí, the province where Volcán Barú is, produces 85% of the food for the entire country of Panama. One of the reasons I chose and ended up living in Río Sereno, Chiriquí, which is 45 minutes from Volcán Barú, is because I wanted to be in an area where food is abundant and is grown locally.
Chiriquí is the westernmost province of Panama. Chiriquí borders Costa Rica on its entire northwestern border. Chiriquí includes Río Sereno, the town where I live, Volcán Barú, David, Boquete, and Cerro Punta.
Boquete doesn't really grow any food per se but they have coffee. Boquete is more of an expat haven. I don't want to say bad things about Boquete but it's not my cup of tea at all. It's not even really Panama anymore. Living in Boquete is like living in the United States, and some people like that, but everyone has their own preference.
Cerro Punta, on the other hand, is very much Panama. It's very agricultural and very picturesque. On the higher parts of Cerro Punta, it's close to 7,000 feet elevation. Cerro Punta is brisk and they grow a lot of broccoli, cauliflower, potatoes, etc., up there.
At the foot of Cerro Punta is Volcán, about 5,000 - 5,500 feet-high. In comparison, the elevation here where I live is about 3,500 feet.
In Río Sereno, you can see the Pacific Ocean within your line of sight. The roads in Río Sereno are winding, and it's an hour and a half away from Volcán. From Volcán, you're dropping from 5,000 feet to sea level in that 25-mile distance, so you're going up the hill. You're going up a very noticeable incline and the ecosystems change from sea level. Between sea level and 1,000 feet, there would be jungle, if it weren't developed, but the jungle is all gone now.
If you move up that hill in Volcán Barú, it's still very green and lush. You would be in a typical rainforest. Where I live, in Río Sereno, it's called a dry forest. Río Sereno is not dry by our standards in the United States, but it's dry by Central American standards.
If you continue to go farther up the hill you'll get into what's called the "cloud forest" where you're at the level where the clouds typically are. Above the cloud forest, you're above the timberline. In most places in the world that are above 10,000 feet, there aren't any trees. When the vertical release is steep like it is here in Río Sereno, you get eco changes very rapidly. In a few miles, you're in a different eco habitat.
Volcán is 5,000 feet high and it's still in that dry forest habitat as we are here in Río Sereno. I've lived in Volcán and I like it there. What pushed me out of Volcán is that it's like a watered-down Boquete. An awful lot of expats are moving to Volcán, and for some reason they didn't feel comfortable in the gated community Boquete aspect. It's a little less expensive in Volcán, whereas Boquete is very expensive. Volcán is also overpriced, but it has a lot of services, including a lot of nice restaurants.
If you want to live in a foreign country without having to really be in tune with the country itself and have all the comfort features such as McDonald's, you can try and situate yourself in an area where those things are available. Volcán is very Americanized, but it's still Panama, and it's still quaint. Volcán is too crowded for me- there are too many people in a small space.
The reason that I live out farther in Río Sereno is that there are fewer people and it's just not as dense or as loud. Río Sereno is rural, and some people don't like rural places. People want to be closer to the facilities, but the facilities that I need more are here in the rural community in Río Sereno. Río Sereno is quieter, slower, and safer. For other people, Volcán would be a far better choice than David, but I would never live in David because it's hot and crowded with a population of about 150,000.
I have lived in Panama City in the past, but now I would only go to Panama City if I must. Panama City is a megalopolis, with about 1.5 million people. Panama City has a lot of people, a lot of great restaurants, and a lot of everything, but also has a lot of problems. Volcán is a good medium place, but if you want to really savor the culture of Panama and get away from some of the reasons you left the United States to live in another country, Volcán doesn't really do that. You must get a little bit farther out.
For some people, moving away from Volcán would be unacceptable and they wouldn't feel comfortable, unlike some people like myself. I feel more comfortable in the country than I do in any city in the United States, Germany, etc.
(Rio Sereno, Panama, pictured.)
Posted April 21, 2017