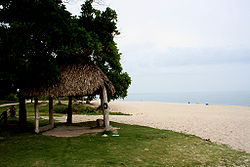 The Coronado area was one of the first developments in what we call "the beach areas." The beach area is also known as Arco Seco, which translates to "dry arch". The beach area starts from Punta Chame, which is a peninsula going out to Juan Hombron, which is in Cocle, the state next to Panama Oeste (Panama West). Punta Chame is a big beach. The most popular development in this area is Coronado because it was the first and it is where most of the biggest businesses have branched out. The biggest pharmacies, banks, restaurants, etc., have branches in Coronado. That is why Coronado is the main place to be.
When we talk about Panama West, which is the state, which has districts. The most significant district and what is referred to as the main city is Chorrera. After Chorrera, the next districts are Capira, Chame, and then San Carlos. Inside Chame, is Coronado. Coronado just became popular even if it is not the main city in the Panama West area. At the same time, when people and even businesses started to realize that Coronado is quite full, they decided to move to other areas like Cocle, which is the state that has the airport. They have the biggest hotels in the area and they have nice beaches, too. Now Cocle has a commercial center and businesses are starting to arrive.
There are several developments in the beach area such as Coronado, Casa Mar, Rio Mar, and Buenaventura, which is the most luxurious and expensive place here in the beach area. There's also Playa Blanca, Bijao, and Vista Mar, which is building the biggest marina in the area. So people are starting to look at other places other than Coronado.
El Palmar, is in San Carlos, located between Vista Mar and Rio Mar. El Palmar is basically in the middle of nowhere in a funny way because the main place is San Carlos and Vista Mar is just next door but El Palmar has a private entrance. When you come over to El Palmar, you'll see that there is nothing around you and you will see the buildings. It is very private and there is not a lot around there.
(Santa Clara beach, Colce, Panama, pictured.)
Posted April 23, 2016