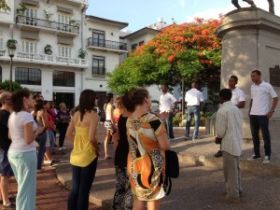 In 1997 Casco Viejo became a UNESCO World Heritage Site. There are actually three neighborhoods comprising what most people consider Casco Viejo. (Esperanza Tour at Fortalez, pictured.)
San Felipe used to be the walled city. The wall didn't last long because they needed the stones to build more houses as the population boomed in Colombia during colonial times. [Editor's note: Panama was part of Columbia at one time.] As a result, you'll see a lot of old stones used inside the houses.
San Felipe is the most developed area around Casco Viejo. In the general, in Casco Viejo area, San Felipe was the first neighborhood to get restored, and it has the majority of the restoration completed.
It would have a higher percentage of the restored buildings, as opposed to the ones that are not yet restored. As a result, it's the higher- end area by definition. They are still restoring some of it. The wave goes where the waves can find properties and its economic path.
Santa Ana is just outside the walled area of San Felipe. Santa Ana is starting to be restored. Central Avenue (which is part of Santa Ana) is kind of like the commercial artery, both in the past, and now. It's always buzzing with people going in and out with packages and street vendors. It has a very local and colorful vibe to it.

Central Avenue is part of Santa Ana. Somehow in the Panama, the way of calling places, it stands on its own, but it's not a neighborhood.
I believe that Central Avenue is the only pedestrian street in Panama City. It has very, very local commerce, so if you go there, you see street vendors, food and clothing and it is always packed with people coming in and going. There are no cars allowed on Central Avenue.
As you come into Casco Viejo, El Terraplan is the first area that you see to your left. It is the curved street. El Terraplan is the waterfront area and it connects San Felipe with the modern side of Panama City towards Balboa Avenue and the first section of the Cinta Costera. It's that space in the middle. It has a different name because it was Panama's first landfill in the 20s, so it didn't exist in colonial times.
El Terraplen has a very vibrant fish market and it is interesting to see how it is evolving, and it is starting to be restored, little by little.
Also little by little, the fish market has turned into this attraction, and there are all these little restaurants
that have opened there. It's very interesting because it's very local and the fish is great. You can actually go into the fish market, buy a bunch of fish, take it to the restaurant upstairs and they'll cook it for you. Everyone has fun and enjoys that.
Posted January 22, 2015