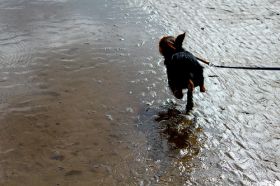 We have a veterinarian in downtown Boquete who is bilingual, and one in Dolega (20 minutes from Boquete, between David and Boquete) who has a clinic called "Vet on Wheels." He has a little van, and can go to your house and pick up your dog or your cat and take it to his vet's office, give them a bath, cut their nails, and kind of groom them a little bit. For emergencies, they have their own 24/7 phone numbers that you can call, and they'll either go where you are or you can just take your pets to them. It's very convenient.
I have a small dog, a Yorkie, and when I just came back early this year, I started living with my mom for a while, and since my mom has a huge female dog, my dog, who is a male, was bitten by mom's dog and got a cut in his leg. We had to run with him to the vet and everything was fine.
Panama City has very luxurious veterinarians. There was one that's very close to the banking area that has a mini-pool. It's crazy, and it's very interesting. Nobody should have any problems with their dogs here. They take good medical care of pets in Panama.
(Yorkie running on the beach, pictured.)
Posted December 12, 2016