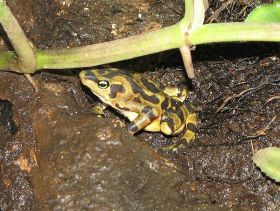 There are at least two tour guide services in El Valle de Anton and they'll take people to waterfalls, out on country trails and outside the Valley (the locals in El Valle de Anton sometimes refer to the area just as "the Valley"), or to the resort not too far away from the Atlantic Coast. One of the owners of these tour services owns a herpetarium (a collection of snakes in glass cages) so he will take the tourists there for sure. He has stuffed snakes and frogs there, too.
The tours also take visitors up in the hills, around the Valley and then outside the Valley and probably shows the tourists the square trees. El Valle is famous for having square trees. The trunks of these trees are square and there is a grove of them in one corner of the Valley.
There are no more golden frogs (for which El Valle is famous) unless you go to our local zoo. There are other tourist attractions such as the zoo and the hot springs. There is a butterfly sanctuary that was just built in the last 6 months or so.
Posted September 05, 2014