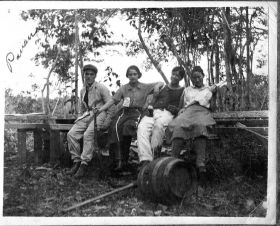 There has been no natural disaster in Coronado, Panama for the past 20 years. There are the normal floods when it rains hard, but these do not damage the Coronado area. We are sort of blessed. We do not have earthquakes. These occur more in the Chiriquí area, closer to Costa Rica, and not in the actual city. There's not much earthquake or flooding in the surrounding areas.
There also aren't any hurricanes here. There are two reasons for that. First, we are on the Pacific side and not the Atlantic side. Second, we are far too south, so there are zero hurricanes.

Brush fires, like those in California, are very rare here. I don't recall any big damage from fire. Sometimes when it's really hot, you get those little fires because the sun is just too hot and the grass is too dry. It is nothing big or major.

Most people do not have flood, earthquake, hurricane or fire insurance. We always advise them to have that, just to be careful and cautious, but it is not required. We are simply lucky that we do not have disasters like those.
(1912 American family in Panamanian woods, pictured.)
Posted March 09, 2015