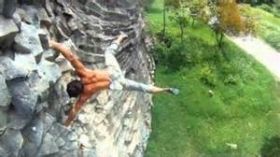 There are many outdoor and recreational activities in and around beautiful Boquete, all year round. For a modest price, you can go on a scheduled activity or tour ranging from zip lining in the tropical cloud forest (Tree Trek), hiking, biking, rafting, whale watching, or horseback riding. A wide variety of such outings are offered by friendly and competent groups such as Explora Ya and Boquete Outdoor Adventure. Rock climbing with world class Panamanian expert, Cesar Mendelez is another favorite. Just ask anyone in town where you can find him, and you'll be pointed in the right direction.
If you feel like a real nice simple hike you can take on your own. Ask how you can get to the 'Pipeline Trail.' Easy and beautiful.
Boquete has a wide variety of great activities. Just come into town and ask around and/or drop into one of the tour groups mentioned here and easily found on main street.
(Rock climbing, Boquete, Panama, pictured.)
Posted November 12, 2015