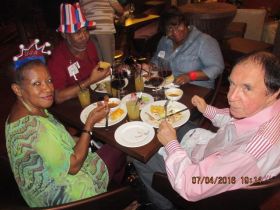 There are many social activities that are specifically for the broad expat community. For example, I belong to the American Society, known as AmSoc, which dates back to the time of the American military base in Panama.
Each expat nationality will tend to have their own social events around their national holidays and lifestyle, including the Canadians, French, British, etc., and if they have an embassy in Panama, then there will be related social events. These organizations are very proactive in charity work, with the purpose of raising money to donate to schools, hospitals, and orphanages and much more in their host country of Panama.
The American Society, through their charitable efforts, has supported education and health in Panama. And indeed socially, they have splendid activities. I have enjoyed many. The American Society meets in Panama City every week at a variety of venues, and do big holiday events at the Hilton and other hotels. It's very lively and good to meet other Americans, some who have been here a long time and others newly arrived, giving a varied perspective of Panama.
Expat activities on the coast tend to be all inclusive, bringing all residents together in many events through social and charitable events as varied as clean up campaigns on the beach, cake sales to raise money for orphanages, care for abandoned pets, and the list goes on. There is a group called Casa in Coronado that reaches out to many of the expats on the coast to coordinate these activities primarily, not only for social reasons, but also for charitable reasons and to address concerns of the community at large.
The expat community is very proactive in doing good for their host country. They also create a very social atmosphere for new arrivals and longtime residents with memberships offered for a small contribution. For AmSoc, the contribution is $40 a year, and for Coronado's Casa, it's $5. As a member, you are part of these really wonderful groups, not only contributing to Panama but also helping to plant you well in the firmament.
As an events coordinator for Opera Panama, I have many of the expat organizations to thank for their support in promoting, and contributing to performances and fundraisers. The arts in Panama have benefited greatly from the interest and support of expats.
To add other examples of expat activity: Phenomenal Women, started by a Canadian, would meet several times a year, and talk about what we, as expats, are doing in Panama. This created a tremendous networking for women. On an international level, Internations, has regular events in Panama City and is a big "go to" for all expats, attracting a lot of men and women working in Panama City. The expat community in Panama is definitely something to tag on to and get involved with.
Finally I have to mention at this time, that the international group, Democrats Abroad as well as its Republican counterpart, represent American politics. It's not just about voting when you're in another country. It's also about keeping up to date with the agendas of your party and contributing to their efforts in their elections from where you are in Panama.
Being an expat can get you quite involved with the country you hail from, without having to be there.
(4th of July celebration at The American Society of Panama event, Panama, pictured.)
Posted October 31, 2016