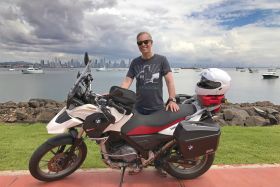 The expats in Panama have a beautiful community in Coronado. They have a restaurant that is run by an expat, and they have their homes. Coronado is an hour's drive from Panama City. They have all the shopping centers and malls, and they have the beach. There are lots of couples - retirees who have their cars, and can drive to the city in one hour. They can also drive to Boquete in 4 hours.
There's a lot of sightseeing on the way- the copper mines, farming, and golf courses. Also, the expats live very quietly. They go to dinner in front of the three brand new malls. They have a place where you can buy medicines, and supermarkets with cheese, beer, and everything they need. They also have a small hospital inside Coronado that is open 24 hours.
If you go to Boquete and David, both in Chiriquí Province, there's a big expat community there. I haven't been there in a while, but I remember it as more of a farming place where people go to sleep at 6:30 - 7 o'clock, and they're up at about 5 or 6 in the morning. They're up in the mountains, it's 50-60 degrees, and the sun is out all the time. They have a lot fresh of vegetables and fruits, and there's farming of potatoes and other vegetables. They also have a lot of cows, and the expats are very happy over there.
The government is investing around US $500 million to make the streets, the water, the lights, and refurbishing all the old buildings in Colon, which is located on the Atlantic side of Panama. .
I'm sure there are expats in Panama City, but they're spread out. They're in the places where the prices are right for their retirement salaries. Where I am, in Pacifica, Paitilla and Bella Vista, there are lots of 1 and 2-bedroom new buildings that are 100 meters, which is equal to a thousand square feet. There are lots of expats on the Cinta Costera, which is in front of the ocean.
If the expats are on the Cinta Costera, they are in the middle of the city. I see them in the restaurants and in bars. The expats are in at least 25 of those buildings that are 30-40 floors. There may be 2-4 apartments per floor.
In Pacific Point, where the apartments are $800,000-$900,000, there are about 2% or 3% expats. In Grand Tower, where there are about 300 apartments worth about $350,000 -$850,000, there are 25-30 expats. The expats either worked in Panama, or were military in the United States and moved back to Panama, or they have a friend and came to live here.
I know one expat named William who has a hearing aid business. He's a great guy- he loves to live here and brings his kids down. The children are between 30 and 35, and they come visit grandpa and have a good time. He's been here, in one of my buildings, for about 5 years. In fact, he's bought a couple of more units, rents them, and makes a good living.
(Expat Christophe Frochaux with his bike, Panama City, Panama, pictured.)
Posted November 08, 2016