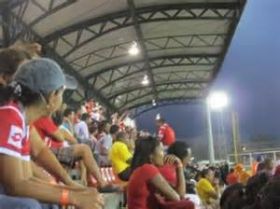 The most popular sport in Panama is baseball. Panamanians are so good at baseball that we're on the same level with Cuba and the Dominican Republic. There are many Panamanians who go to the United States every year to try out for the baseball teams like the Red Sox who take Panamanians the most, and other teams in the United States, in the dream of becoming Major League Baseball players.
Some of my high school friends in Panama were signed up by American universities and given scholarships as long as they play for the college team.
Another sport Panamanians like is soccer. Panama is really trying hard to get to the FIFA World Cup. It has never happened, but every year we're closer to getting there.
Another sport that has become more and more famous during the past five years is American football. It's surprising, but we're the only country besides Mexico in the whole of Latin America that plays American football. There are two Panamanians playing in the United States who received scholarships for American football. Panamanians love American football and flag football. We have girl teams and boy teams in school who later become American football players. I play American flag football.
(Pictured: Watching Panamanian soccer (futbol))
Posted January 30, 2017