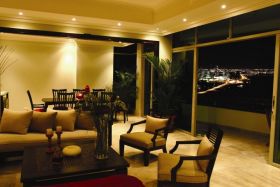 Home mortgages in Panama vary. The houses that are for the locals cost US $50,000 - $70,000, and the government gives them $10,000 with 30 years to pay. If you are buying a property, then you go to a bank, the procedure is the same as with American mortgages. Today, the interest rate is running 4.5% - 5% for 10-30 years.
The length of a loan for commercial property will start at 5 years - 7 ½ years. They don't go too much, or you could get a 5-year extension. It's a normal procedure of registering. Once the land is registered in your name, the bank lets go of the money to the original owner. You're pretty protected all the way around. Again, you have to be wise and do your legwork and do it legally, and then you are well protected.
You can get mortgage even as a foreigner. They will mostly ask you, "How are you going to return the money?" So what you would have to do is show them your income. If you're an expat or retired, and you have a check from the US government, they'll take that as a loan against your mortgage. Then the bank in the US would send the money monthly, or whatever you arrange to pay mortgage. That way, the bank won't have to chase you, you can be really transparent, and everybody's happy all the way around.
The down payment varies from builder to builder, so, on my high-end property, I take down 30%, because the bank doesn't like to lend more than 70% on a million-dollar property. You really have to show them that you can afford the monthly payment. You have to show them that income to get the loan.
(Condo in Pacific Point Tower, Panama City, Panama, pictured.)
Posted November 21, 2016