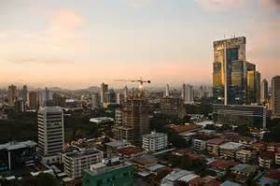 Marbella is becoming a cool area. It has parts that are very old with old Panamanian-style houses and it has parts that have high-rise condos. It has a lifestyle in the evenings of restaurants and bars.
I was in Marbella the other day and ate at a Brazilian steakhouse where they have steak on a skewer. Previously, I had no idea this was in Marbella. The international aspects of what's going on in Marbella are shocking.
Some parts of Marbella are a little too old for an expat to think that they should be there. I'm not suggesting they should, because it's not bad. Some of those buildings are over 100 years old.
Marbella has a Riba Smith grocery store and the amenities that an expat would want but it doesn't have a beach. So if you are a beach person, Marbella is not the place for you. However, it has a city feel and you can walk out your door, get to the grocery store, or to the restaurants.
(View from a Marbella apartment, Panama City, Panama, pictured.)
Posted May 16, 2016