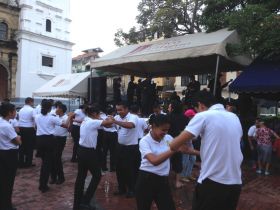 Casco Viejo is a little bit like Woody Allen. You either absolutely love him or you absolutely hate him. There's nothing in between. I have never met somebody that says, "I kind of love" or, "I kind of like" Woody Allen. Everybody has an opinion. It means it's either with your personality or it isn't.
Casco is a historic city. It's a walkable district and has been here for 300 years. So it has every single charm that the human scale has, but not necessarily all the amenities. It is not ultra perfect and it is going to be a little rough around the edges. People who live here have to be romantic and adventurous. They have to have an artistic vein and be community oriented and one-on-one, like a human scale. These people will love Casco. ( Students spontaneously dancing in Plaza Cathedral, pictured.)
Most of the people who enjoy Casco Viejo are those who do not enjoy living in high rises. They feel that high rises are anonymous. When you live in a high rise, you do not have contact with people, you don't get to know anybody and you don't have the sense of community. People who live in high rises have the pool, the gym, the amenities and parking, but they feel a little empty and a little antiseptic. It's just very, very different than living in Casco Viejo. Living in a high rise compared to living in Casco Viejo is just two different personalities altogether.
I'll give you some examples of what its like to live I Casco. I'm part of this neighborhood association that does a little bit of everything. Now that the summer is here, we're planning different little events. For example, on the 31
st
, we're doing a "day on the bay," which is on Casco Beach. There's a beach here, it's the only beach in the city, and it's only for us. Nobody knows it's here but with this little event, we're going to try and create awareness about it. We have biologists with us and we will tour the mangroves and rocks and get kids excited about seeing nature and using the beach.
(Overlooking the water from the terrace of the Centro Cultura de Espana, pictured.)
On the 13th of February, we're going to do a little children's carnival with old school games with ropes and all that. After the carnival, we have a team flying from the States and joining our team here in Panama and we're going to beautify some local parks for the children.

I live in Casco Viejo with a bunch of people who are passionate, like me. They look around and say, 'Hey, why don't we just, 'fill in the blank.'" And we do it. You do not get that sense of empowerment in other places like this. Here in Casco Viejo you just wake up and go out of your door and say, "Hey, I can fix this," and you actually go out and fix it. I do enjoy the constant web that is interconnected here in Casco.
Posted January 21, 2015