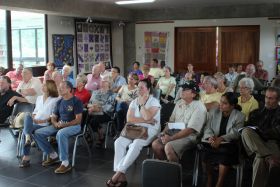 On December 18, 2014 I posted a response on Best Places In The World To Retire regarding crime in Boquete.
At that time I noted that there was very little violent crime.
That changed in 2015.
In 2015 there was a significant uptick in violent crime, much of which involved underage young men who were under the direction and control of senior gang members in David.
The response by the Boquete community, individuals, and the Police has been very impressive.
The first response was a dramatic increase in the rise of community policing in a wide range of different neighborhoods through the deployment of walkie-talkie networks, community camera systems, and ad hoc WhatsApp texting networks (which include the Police).
Now suspicious cars and people are regularly photographed, reported, and even followed in vehicles.
There has also been a significantly improved Police presence throughout Boquete that provides an effective complement to the community anti-crime initiatives.
The arrival of Captain Juan Arauz in Boquete has marked a sea change in our relationship with the Police.
Captain Arauz is a consummate professional who frequently investigates crimes himself, even minor ones, leading by example and providing a commanding presence throughout the entire District of Boquete.
We have three new police trucks patrolling Boquete and patrols in the canyon communities of Alto Boquete are frequent, as is the interaction and cooperation between Boquete residents and the Police to combat crime.
The worst thing about living in Boquete in 2015 was the advent of violent gang related crime.
The best thing about living in Boquete in 2015 was the extraordinary cooperation among all members of the Boquete community and the Boquete Police in taking up the challenge in such an effective manner.
I am proud to be a Boquetanian.
(Ambassador Farrar at townhall meeting with American citizens in Boquete, Panama, pictured.)
Posted January 19, 2016