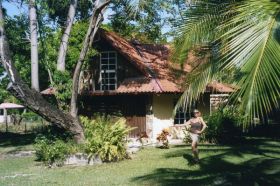 Living as a retiree in Panama is highly recommended because of the lower cost of living in general and what you can get for less, like low to no property taxes and an unheard of small amount to pay for condo monthly fees. You can tell I'm from NYC where the sky's the limit.
Whether you live in the city, which is preferable for some people, or you live on the beach or the mountains, is a matter of preference but you do have those choices in Panama. I chose the beach. I did not want to be more than one hour from Panama City because I am a city girl but I love the beach so I have it all. With excellent public transportation its doable to go back and forth easily and yes, for only $2 each way on the bus and taxis in the city.
If you do not live in the city then what is highly recommendable is Coronado, and beach communities on 'the Gold Coast" an hour to two hours from Panama City. The various wonderful mountain communities opposite the beach would be Altos Maria, which has gorgeous homes, and El Valle. It's one of the most popular places in Panama other than Coronado, with its lush green and towering mountain peaks.
What you have now that did not exist 10 years ago when I moved to Panama are some excellent suburbs around the city. Here you have all the amenities of a suburb – shopping malls, lovely new homes and condos within a stone's throw from the city. There is a new area of development of suburban communities, Panama Pacifico, which has become expat popular. And there will be retirement settlements with assisted living options going up along the coast as the first of these is just breaking ground.
(Cottage in Playa Coronado, Panama, pictured.)
Posted November 18, 2016