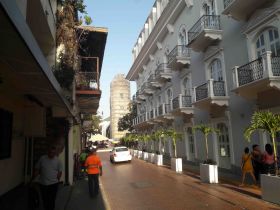 I read the older answers above with interest, and having just returned from another visit to Panama, I felt that perhaps some additional criteria might be factored into the decision-making process:
I agree that the 3 areas of main interest for expat retirement appear to be Panama City, which is an urban lifestyle, Coronado and Boquete. However, beyond the two factors often mentioned, weather and expat community (Panama City hot and humid and suffering from disproportionately hectic traffic, Coronado, in the hills and cooler weather with a different style of condominium living, and Coronado with a beachfront high-rise condo lifestyle in the main and the apparent ease of integration with other expats), we find that a range of other factors such as ease of access to amenities, distance to beach, safety, cost of living, and of course real estate values in particular rentals because many expats are coming for the winters. In addition, the new legislation around the need to remain outside the country for at least 1 month following expiration of a tourist visa, will also affect the choice of those people who have not opted for formal residence.
Amenities: Of the three, Coronado is worst served. With the exception of a small store within the resort, most of the amenities are on the Panamanian Highway and only recently has a little more variety or quality been added. Nonetheless, Boquete, for example, has a range of traditional stores and even the Romero supermarket offered a good variety with some reasonable, and some more expensive items. A maximum of 30 minutes along a new dual carriageway road one has access to a stretch of the Panamerican highway which, around David, has a much better set of offerings than near Panama City or Coronado.
Distance to beach: Clearly the winner is Coronado where most condos are on the beach. However, many residents I asked did not always feel totally safe in walking all the way along the long stretches of sand, especially at dusk and with construction crews lingering on build sites. Chame, despite its mosquitos, offers a greater sense of peace and tranquility. For those in Panama City, a trip out to Las Perlas, while expensive, is a wonderful beach experience. Skip beyond Toboga to Contadora and the beach quality will not disappoint. Equally, if in Boquete, swap the Bocas end which involves huge travel time and try to find a small peaceful spot on the Pacific side, near David.
Safety: Panama is only the 48th safest country in the world, which is not exactly top of the league tables. Canada is 8th, the US 103rd (so understandable that many Americans will feel safer) and another retirement location, Portugal, 3rd. Often it is not the safety itself, as most locals are friendly enough, but it is the sense of safety one feels when walking or driving. For example, walk too far away from the tourist center of Casco Viejo and the neighborhood becomes rougher (the tourist guides talk about the gangs which have now worked out a truce between them!). Try to aim for the fish market and the chaos of locals double parking and loading their purchases can be intimidating. Step through Almirante when aiming for Bocas del Toro and no one can ignore the abject poverty and disheveled state of the town. But equally, the less busy roads of Panama City are very pleasant for an evening stroll, and although dark I did not feel threatened when walking to a wonderful restaurant in "downtown" David on a Sunday night.
Cost of living: Panama is not as cheap as it once was (what place is?). Residents who have lived there for many years, remark how the cost of living has increased. Of course, it is cheap by New York or San Francisco standards, but then most places are. If cost of living is a factor, then do compare with other markets.
Rental: clearly you cannot rent a property for the price you could in Spain, but then again, you would probably have to travel an extra 3-6 hours for the former, so at the moment make sure you negotiate when it comes to a rental. In places such as Panama City, this is more difficult, but in Coronado and Boquete a distinct possibility and there is very good value for money in these areas.
Notwithstanding these points to observe, Panama remains a very good option quite close to the US, and with an excellent retiree program.

Remember to look beyond weather as your new life overseas will be made up of more than sunshine or rain!
Posted March 26, 2018