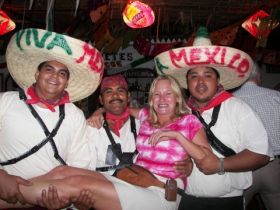 One of the things that I love about living in Panama and one of the reasons why I moved to Panama is because it's the "Belly Button of the Americas," as it is often called. Its right smack in the middle of what feels like everything. And every year we have more and more direct flights coming in from Europe and from South America.
My airline of choice is Copa, which is based in Panama. From Panama, you can fly to Uruguay direct. You can fly to France. You can fly all over Central and South America in an hour or two. This is just one of the reasons why I love living in Panama; it's just so accessible to the rest of the world and my biggest passion is travel. Panama is my first choice of any country in the world that I want to live in but I do like that fact that I can go in a heartbeat and be almost anywhere quickly and comfortably.
It's even more accessible than most places in the US. On many flights, when I'm on going back to Panama, most people are going through Panama to go somewhere else. Panama is just a huge, huge hub. In addition, they're currently expanding the airport. It's one of the busiest airports I've ever seen. I've seen so much wonderful growth in Panama, and with regard to travel, it's amazing.
(Sarah Booth in Mexico, pictured.)
Posted November 27, 2015