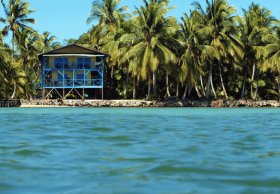 The number one best reason to retire to Panama would be the adventure. Panama offers the opportunity to be able to have a different lifestyle and a different culture that is geographically very close to home. Living here is very affordable and the healthcare is very good. If you come to Panama and you are North American, you won't change your diet very much because they eat the same foods that we eat. However, the food here is not processed with chemicals and the animals aren't raised in cages. They are all natural and free-range chickens and cows. That makes a difference.
Panama offers a lifestyle that many in North America would like to live but couldn't afford it, like living on the beach. Many of the clients who I deal with always wanted to live at the beach but they couldn't afford it, but in Panama you could certainly afford to live at the beach.
All kidding aside, I really think that most of the people who I encounter who come to live in Panama are coming for two main reasons. One is that they simply can't afford to live the quality of life that they want wherever they are coming from, whether it's in the US or Europe or wherever. The number two best reason to retire to Panama is politics. Some people don't like the political climate wherever it is that they are coming from and they come to Panama. Of course once you get to Panama, you tend to be far enough away from American politics to not even care after a while. You certainly can't vote in Panamanian elections so you really remove politics from your life, ideally. However, you can still vote in American elections if you choose to. As far as the economic side, you definitely have the opportunity to live a better lifestyle for less money here in Panama.
(Beach house, Panama, pictured.)
Posted August 17, 2016