Should I keep my US bank , brokerage, investment, IRA, or retirement account if I move to Panama?
This, like many other questions posed on this site and others, has many answers, none right or wrong, but all dependent on each individual's situation.
If you are considering moving permanently to Panama or any place else for that matter, you may want to consider moving your money, too.
Or, if you want to invest in hard assets (a house or land) in a foreign country you may want to have accounts there, too.
Or, if you want to diversify your investments internationally, moving money and investment accounts abroad is a means to do that.
If you think you are going to hide money in Panama without breaking any laws - you'll probably lose your money to some shady guy in a straw hat with dark sunglasses.
Personally, I've done several of these things and I encourage others to do the same. I have accounts, some money, and retirement savings invested in real estate in Panama. I don't deal with shifty characters with dark sunglasses.
Since I help people diversify their retirement investments for a profession, it was easy for me. If you are not knowledgeable in these things, you may want to ask somebody who is.
You may want to think twice about asking a "Financial Advisor" about these things as it is quite unlikely that he or she knows anything past investing in the US stock and bond markets.
Frankly, while Financial Advisors sometimes have your best intentions in mind, often they are more concerned with making commissions on sales of securities.
In other words, don't go to a Ford dealer and expect them to tell you to go down the road and buy a Chevy. It's not going to happen.
Volcan Baru Sunset last week: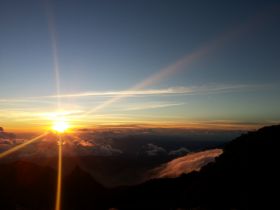 Posted February 05, 2015