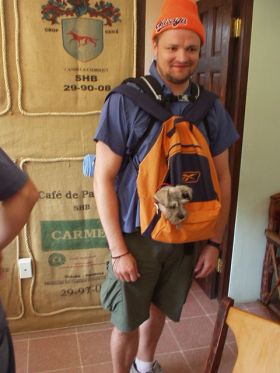 Shipping pets to Panama is easy and common. Dogs are the most popular pets that are brought down here. Cats fall in the similar category. Just don't bring your parrot. There are different rules for bringing birds to Panama.
To ship your pet to Panama, you have to first take them to your local veterinarian and get their basic shots and their records up to date. You have to get some other paperwork from your agricultural department because sometimes they have to tell you what needs to be done from your area.
Once you get all the paperwork, you can then bring your pet to Panama. There is a quarantine but it is a home quarantine. When you land, it is preferable that it be during daytime because then you would have a veterinarian receive your dog on this end. However, the vet would also come at night if you make prior arrangements and he will charge you a fee for it. If you follow the rules (and the rules on what you need to do are simple), it is very easy to ship your pet to Panama. The problem only comes in when people do not follow the rules. Yes, there is some paperwork that you need to do before you could bring your dog but it is way better than Australia, where you cannot bring your dog at all.
(Man carrying his dog in his backpack, Panama, pictured.)
Posted May 18, 2016