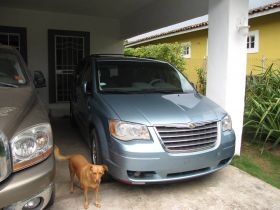 Shipping a pet to Panama is difficult. You have to take your pet to a veterinarian and get a report that the pet is healthy. The paperwork has to be apostilled (an apostille is like a notary) and then you have a ten-day window to get the animal into the country of Panama before the paperwork expires. Otherwise, you start again. You have to make sure that the paperwork is authenticated before you come.
It can be relatively expensive to ship a pet, but only if you start out in Canada. It costs about US $25 or so to ship one animal from Canada down to Panama, but it can be expedited. In Canada, it is difficult because the only place you can get the paperwork authenticated is in Ontario, which was 2,600 miles from our place there. I think part of the problem was that we had to fly to Ottawa so that would have cost an extra $500 or $600 for us to fly across the country to get paperwork processed, and then put the dog on the plane. So from our point of view, in Canada, it is more expensive and more difficult than it would be in most places in the US.
In the US, it is a different story. We had a customer who lives just 2 miles from the place where he needs to get his paperwork authenticated, so it was easy for him. It's a lot easier to ship a pet from the US because there are numbers of places in the US where you can take the paperwork and get it authenticated rather than driving of flying all the way across the country.
Once the animal arrives in Panama, the vet inspects it at the airport here. There is no quarantine once the animal arrives. You can pick up the animal at the airport and take it home with you. We are licensed pet carriers and have done this for a number of people over the years.
(Ginger, a rescue dog, in her new home in Panama, pictured.)
Posted April 27, 2015