A Desperado for Raspado, Panamanian or Tucsonan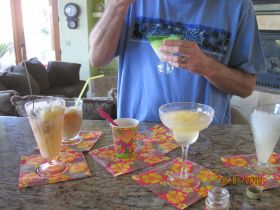 Reading Chris Frochaux's piece on raspado, the traditional Panamanian dessert, made me hungry for a "shave ice treat (that's how they say it in Hawaii)", so I made an array of them; six in fact, and uploaded a video to showcase my techniques. Coincidentally, two people on Best Places in the World to Retire website have had shave ice desserts in my Arizonan home: Della Hogan and Bill Brunner. I have yet to taste real Panamanian raspados, but I intend to try. Meanwhile, here are the recipes I demonstrated on the video.
Shave Ice with Ice Pops
Defrost fruit-flavored ice pops. The day-glo ones that appeal to kids are the most authentic. I used apple flavored Mott's ice pops, made with real apple juice because I wanted to appear nutritiously righteous on YouTube. You could of course, buy the specially manufactured snow cone syrups. I've seen them at Walmart and Cost Plus.
Pour ice pops over shaved ice. I served it in a plastic triangle cone with a platform so it stands by itself. Use a long handled spoon to get to the bottom. You'll need a straw, too, if you are a slow eater, which is not good for you, because some well- meaning person could get impatient, and finish it for you as a service "before it all melts."
The shave ice trucks ply the body surfing beaches in Hawaii, and there is always a line. They serve the shaved ice in paper cones that always seem to leak out of the bottom. I recommend eating a drippy shave ice in a bathing suit; it is quite practical, you can just wash up by splashing in the pool later. I only order rainbow-style shave ice with stripes of my favorite flavors. I don't care that I am basically eating sugar water with artificial flavoring and food coloring. I grew up on Kool-Aid and Hawaiian punch, and I am not the worse for wear. Far from it, I was quite happy, as Kui Lee (an old school Hawaiian singer-musician) once sang, "in the beautiful days of my youth."
Shave Ice with Adzuki Beans (sweetened red bean paste)
Place 1 or 2 tablespoons of red adzuki paste in the bottom of any festive cup. Mine was tropically themed and I bought them for that purpose. Some stores during the summer-time have the paper cones. Just make sure they have a wax paper lining, or it will disintegrate in your hands.
Pack the cup/cone with shaved ice. If you want to create the dome above the lip, you'll have to use the palm of your hand and shape it while packing it gently. If you are doing it for others who are not in your family, you should don a latex glove. People are picky: I once "handled" a cone too much, and this kid, would not accept it.
"That's not mine. You touched it with your hand," he accused me. "Give me another."
Later, I asked my husband if it were really necessary to have this fastidious family over to the house again.
Pour very cold fruit juice, snow cone syrup or Kool-Aid over the top, around 2-3 tablespoons, depending on your taste. Chilling the juice helps to keep the ice crystals from dissolving right away. I used fruit nectar because it has fruit concentrate as its first ingredient. If you can, transfer the juice/Kool-Aid/ syrup into a pourer with a very narrow spout, so, as you pour, the ice in the cone won't collapse as much. I used peach nectar, but I said mango on the tape.
You'll need a spoon to get to the mashed beans. I use plastic spoons that I save from a frozen yogurt place. On the tape, I was babbling about not wanting kids to "break and crack ice." What I meant to say was that you don't want kids running around the pool area with breakable glass. Then again, if you have a mechanical shave ice machine, put the kids to work. As a youngster, that was my job, to turn the handle of the shave ice machine. It tastes better when you sweat for your shave ice.
Along with the sweet coldness of the shave ice, you'll enjoy the adzuki beans for their rich texture. Shave ice with adzuki beans may be too much of a mind bender for some, but if you are in the Japanese food aisle, I recommend you bring it home and try it. It is not only delicious and substantial tasting, it is nutritious, too. I never mix the shaved ice with the adzuki. It is so exciting to know it is waiting for me at the bottom of the cup; it's like the tootsie roll in the center of a tootsie pop. And it is worth waiting for the big payoff.
Shave Ice "Special"
Choose your poison. There is a certain shave ice store on the North Shore of Oahu, and when you furtively ask the owner for the "special," he slips into the back and undergirds it with vodka. In my recipe I used banana liqueur, because it tastes good with mango nectar.
There is no recipe. The amount of fruit nectar you put in depends on how much you want to "spoil" the liqueur. Then put enough shave ice to keep it chilled.
For me, I love ice. Every night I share a beer with my husband, and he pours mine over ice. So this may look like a cocktail, but it really is an adult snow cone.
I served mine in a margarita glass made of plastic. I love plastic cups. They are light; you can tote them around and not worry if you trip over a dog and break your drinkware, and because you have fewer worries, you can drink in peace and serenity.
Pina Colada or Chi-Chi Shave Ice
I used partly defrosted Bacardi pina colada mix, because I like the convenience and the taste. The fact that the pina colada mix is only partially frozen makes it easier to pour than scraping out the frozen drink mix. The coldness is also helpful, so the ice does not have to work as hard. Note: I did not recommend that you blend up a fresh fruit pineapple and coconut milk smoothie first. Go for the canned stuff. I also prefer margaritas that are made from frozen lime concentrate. I think that fructose and additives are highly under-rated as taste enhancers.
You'll notice I used quite a healthy dollop of the Bacardi pina colad mix on the shave ice. Not to worry; that is why I diluted it with vodka. As I mentioned in the instructional video, if you add rum to the coconut and pineapple drink mix, it is a pina colada, and if you add vodka, it is a chi chi. The stubby martini glass I served it in is small, and basically when it comes to drinking this chi chi shave ice, I just take a few bites, and my husband finishes the rest. He tells me I just like the idea of cocktails (as opposed to drinking them), and I am a pretty cheap date. The next one I make for myself is a "virgin" chi chi. When I was in college I used to order virgin chi chis all the time, because I wanted to make sure they were omitting the vodka. I don't think I've ever ordered a virgin pina colada. I think the phrase "virgin chi chi" is much more fun to ask for from a bartender or at a neighborhood gathering.
That little Skyy vodka bottle is my traveling flask. I first brought it for us to contemplate the Russian River over a cranberry and vodka Cape Codder in our B&B. Why buy abroad when you can bring from home? In my traveling kit to Panama, I took along a cutting board and knife with a sheaf, so I could feed my husband those "unpronounceable fruits" from the open air market in El Valle, when we got back to Ivan Marquez's Manglar Lodge. I think I learned these skills from the Girl Scouts, because traveling for me is similar to camping. And just like our brethren, the Boy Scouts, we Girl Scout also remember to "Be prepared."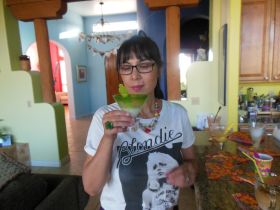 Arizona-Style Shave Ice or Raspado
Because I never got to taste the traditional Panamanian dessert, I am assuming that Chris Frochaux 's recipe (whose knowledge about Panama seems to be encyclopedic) was accurate and typical. Accordingly, a Panamanian raspado is shave ice enlivened with flavored syrup and made creamy with sweetened condensed milk as a final flourish. That sounds like a perfectly wonderful treat to eat while walking around a plaza during Carnival. If you loved Chris's version, you'll love mine, too, Arizona style.
Get meaningful exercise first. You'll want to consume this shave ice with a clear conscience.
Any sort of tall tumbler will do; a roomy glass like a hurricane glass would work well. In Tucson, they serve raspado in large Styrofoam cups. Those traditional snow cone paper cones would collapse halfway through the filling, so stash those for this recipe. I used a vintage sundae glass in the video, and it's a favorite of mine to serve to my husband other frozen treats like smoothies and a lassi or two. If I am going to serve this to someone who is not sitting at a table, like on a lounge chair, I would serve it in a glass with handles, like an oversized beer mug, because this raspado takes a long time to eat, and your hands will freeze in the process. Needless to say, our sundae glasses and over-sized beer mugs get a lot of use.
You'll need lots of shaved ice, because everyone is going to want to "jumbo size" their order.
There are so many toppings, but basically add any fruit or nuts you like. The kids around here like preserved plum and pecan. I love strawberry and mango in my raspados. Ever popular are watermelon, banana, tamarind, vanilla, mango, coconut and pineapple. You can also mix a few toppings together. In the raspado places, the fruits are soft and in syrup. So go ahead and use canned fruit, or mix your fruit with sugar a few hours before until a liquid forms. One of my favorites is fresh jack fruit, and the syrup it makes is like an exotic perfume.
The next major ingredient is canned sweetened condensed milk; not canned evaporated milk, and certainly not 2%, soy or almond milk. Make sure that yours is at room temperature. It's a glacial age before a refrigerated can of condensed milk becomes pouring consistency. Also, don't mess around with pouring from those little triangular can opener holes. That takes forever. Sucking it out directly from the can opener holes doesn't make it move any faster either. Not that I've tried. (At least not more than twice.) Open the whole bloody thing, and dip into it with a big spoon.
For the tepid eater, this is the end of your ingredient list. From here on in, make your layers: shave ice, fruit chunks / nut pieces with syrup, and then a hearty dollop of condensed milk. Layer again and again until you are at the top. Once you start eating, you'll be reciting your favorite letter in the alphabet: mmmmmmmmmmmmmm….mmmmmmmmmmm…
If you are like me, you're not going to hold back, and you will include ice cream in the layers. Why? Need you ask? Because it's the right thing to do, and why deny yourself this particular joy? And adding ice cream tastes better and heightens all the rest of the ingredients. Ice cream is considered a sub-category of this kind of raspado and is called raspado con nieve y lechera. I heartily recommend this combo. Not including ice cream is like living without dogs. You can do it, but why? Also, I only use vanilla ice cream, and have never tried any other. Why? No more existential questions! You'll need at least two scoops of vanilla ice cream per serving (and no arguing about that, either, Masseur Sarte) to fill your tall tumbler / hurricane glass / sundae glass or giant beer stein.
So you got your large glass, and everything mise en place. Then you start doling out the parts: a scoop of shave ice, a generous spoon of condensed milk, a hefty dollop of fruit and syrup or a teaspoon of chopped nuts with their syrup, and a scoop of ice cream. Pack it down like your over-stufed carry-on. Don't lose heart; keep going. You are half, or for those accomplished eaters, a third done. Layer and pack again. Stop when your reach the top. Serve with a long handled spoon, and then a straw. Mix as you go along, deftly catching the strays that move down the sides of the glass with your tongue. (Practice, practice!)
Clear the decks; this is the best way to eat shave ice in the western world. The best way in the eastern world is Filipino halo-halo (a topic for another conversation). Shave ice with fruit syrup is good. Shave ice with fruit syrup and real fruit is great. Shave ice with fruit syrup, real fruit and sweetened condensed milk is inspired. But shave ice with fruit syrup, real fruit, sweetened condensed milk and ice cream, proves that God loves us. So go to church and thank Him.
There was a nice guy, a street vendor that my husband met in Casco Viejo. On our last day, my husband bought an inexpensive ring from him, for me, just because he wanted to support that man's business endeavors. I think, if that man set himself up with a raspado cart, just as I described, he'd be making money hand over fist, enough to move next door to the presidential palace. If you see him, give him this idea and bankroll him. Think of it as a cultural exchange. And save a little for the cats of Casco.
Shave ice Vietnamese- style
The last entry was because I was thinking about the coffee of Boquete, and how this should be a typical Panamanian desert or merienda. I can just imagine all those hip retirees after their yoga class stopping in for the Boquete coffee raspado before dashing off to happy hour.
Brew one serving of strong espresso. I used a Vietnamese filter, because once you add the boiling water it drips slowly. This is much nicer than watching your corroded Italian espresso pot boil over on the stove. Let it cool. Or better yet, if you are organized, refrigerate the espresso at least an hour before the magic begins.
I used a big, see-through glass coffee mug. You could use a ceramic mug, but I like the look of the dark coffee on the shiny ice crystals. Pack the shave ice into your mug.
Pour over your espresso. Unlike the Italian affogato, which is hot espresso over ice-cream, your ice is not supposed to melt, or at least not much at first.
I topped mine with sweetened condensed milk, because I like my coffee sweet. Evaporated milk can be substituted.
My husband doesn't like hot coffee in the morning, or really even drink coffee at all. But he does like it when I occasionally serve him cold coffee drinks in the afternoon, when he needs a little pick-me-up. This coffee raspado is also laden with fewer calories, and it's less likely to make him want to dash off to the gym to work off his love handles, which he is doing right now, and I only offered to make him a raspado!
Hope you enjoy my riff on Panamanian desserts, shave ice and raspados. It will be 103 F around here tomorrow, and my raspado will be considered a preventative measure to battle the heat. So keep cool out there in the Best Places In The World To Retire!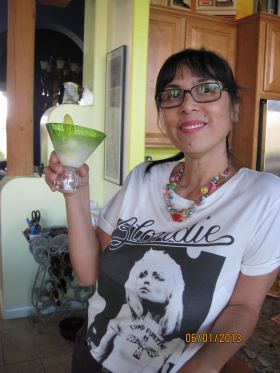 Posted June 05, 2013