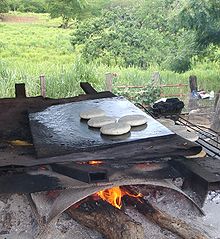 Panamanians usually cook dishes like arroz con pollo, sancocho (a soup-like dish), tamales, bollos, tortillas, and hojaldre. These aren't what we eat in Panama most of the time, but the dishes that are more representative of Panama.
To make arroz con pollo, or rice with chicken, boil the chicken and use its soup to flavor the rice. Vegetables such as cabbage, peas, carrots and olives are used in this dish. The chicken is cut into small pieces and combined with all the vegetables and then the rice. Arroz con pollo is a mixture of all these ingredients with some spices. Achotes, a type of seed, is used to give the rice its yellow color.
Sancocho is a kind of soup that is very basic and is very common in Panama. Here in Panama, we use a lot of root crops such as the nyame, the only root used in making sancocho. To make sancocho, nyame, cilantro and chicken are mixed. Cilantro is also very widely used in other places in Panama as well.
The tamales in Panama are like the tamales you'd expect to find in Mexico. The only difference in the tamales in Panama is that they're not as spicy as the tamales in Mexico, and that Panama's tamales only use chicken.
The tortillas in Panama are made exclusively with corn, and that makes our tortillas different than the tortillas in Mexico. In Panama, the tortillas are similar to the arepa (made of ground maize dough or cooked flour) in Venezuela. The tortillas in Panama are not like the flat ones that you get in Mexico because the process of preparing corn is different. Instead of covering the corn with wheat, the whole grain goes into a machine.
Hojaldre is a type of white wheat that you get when you make a mass out of water and salt and cook it in oil (deep fry). Hojaldre is a kind of fried bread. When I lived in Madrid, the food was a lot different than the food here in Panama.
(Arepas cooked over an open fire, pictured.)
Posted August 08, 2017