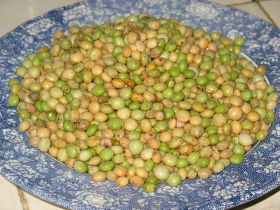 Panama has several traditional foods. One of the national dishes of Panama is
arroz con pollo
, which translates to "rice with chicken." It is a type of rice dish which is yellow in color because of the condiments used in making it. It usually has a mix of vegetables and long, shredded chicken. Arroz con pollo is commonly served during birthdays, weddings, Christmas, New Year's, etc.
Another traditional dish here in Panama is tamales. Our tamales are made in a type of banana leaf (called "bijao") and have the same color as the arroz con pollo because of the condiments used. Corn puree is steamed into the banana leaf so you have a pocket of delicious flavor. They usually mix the filling with olives, raisins, and chicken or pork.
Another unique dish in Panama is "arroz con guandu," which is another rice meal. Rice is a staple dish in Panama. Guandu is a type of bean that is harvested around December (pictured). It can be very expensive, depending on the availability, sometimes up to US $4 per pound. To make a rice meal out of it, you need 2 pounds. It is sold in other countries under the name "gandules," but here we call it guandu, and ours is a smaller bean. It has a unique flavor, but some people do not like it.
There is also the Caribbean style of making rice, typical of the provinces of Colón and Bocas del Toro, called "arroz con coco," which translates to "rice with coconut." That is one of my favorites. It is really rich in flavor, made with a black bean, so the rice becomes a purple color. The coconut flavor makes it a little sweet.
Posted February 11, 2015