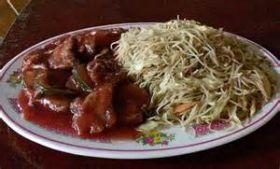 Most of the food and cuisine in Panama is fried. We have lots of food that is made of chicken, rice, and pork. In the provinces of Panama, we eat a lot of pork, chicken, corn, and tamales. There are lots of restaurants in Panama City for all tastes, and Panamanian food is starting to get recognized in the international market. We have a lot of Panamanian chefs who are experimenting with Panamanian cuisine, which had always been the same for many years but which is being reinvented now by these chefs.
Panama has what is called crisol, which is a blend of races, traditions, and cultures. The culture and traditions of Panama were influenced by Chinese, Spanish, Italian, Indian, Caribbean, and many others from all over the world. Because of these influences from other countries, we have adapted many of these people's cultures, including their food. We have a traditional Chinese food called chow mein. In Panamanian houses, you can eat chow mein made by a Panamanian cook. We also have Panamanian spaghetti which are made of achiote instead of tomato sauce, and it's made of ribs instead of lamb.
When you go to Guatemala or when you go to Honduras, for example, you can expect to be served chicken, plantains, rice, avocado with Mexican tortilla because those areas have a lot of Mexican influence. In Panama, which is very close to Guatemala and Honduras, we don't serve tortilla with your food unless you go to a Mexican restaurant. Panamanian food also has a lot of spices like cumin, oregano, etc. but it is not hot. There are a lot of spices for the flavor but it is not to make the food hot.
(Chinese food in Panama, pictured.)
Posted April 28, 2016