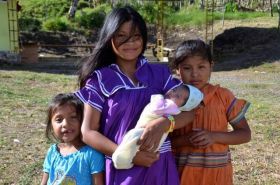 Here in Panama, there are a lot of foundations for volunteer and charity work. There are people who work with kids, hospitals, and animal rescue. There are groups of very nice people working with animal rights and things similar to that. In general foundations that focus on education are the most important ones, along with rescuing children from the streets.
Some of the foundations in Panama are Nutrehogar and Ayudas. These organizations get volunteers from different places in Panama and provide back up to small foundations. We also have Doctor Yaso (derived from 'payaso' which means clown), a volunteer who makes custom clowns and goes to hospitals.
There are also foundations specifically for expats and people coming from all over the world. We find that expats and other foreigners are very interested in being part of these organizations. Here in Boquete, these organizations are very organized and often do charity work for the town. We need to consider the positive side of having people coming and living in Panama.
(Alta Boquete Condominios's Christmas party for the native children around Boquete, Panama, pictured.)
Posted August 18, 2017