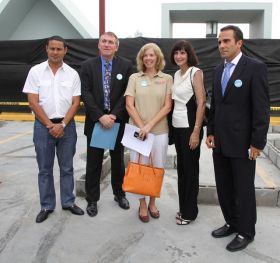 There are many different types of charities here in Panama.
You can volunteer through a church or a synagogue that represents a segment of the population in Panama or you can volunteer in an organization that is countrywide in scope. As an example of a countrywide charity, one person 50 years ago created the blood bank, which still exists. Another example is the charity that my wife and I are involved in that brings in doctors from other countries (primarily Israel) to train our doctors in Panama in the set up and treatment in trauma centers. Recently, five doctors came and stayed here in Panama for 10 days to teach our doctors here in Panama how to attend to patients and how to set up the trauma centers. We offered that seminar to 60 doctors and 860 showed up, so we had to expand. To organize this, there is a group of around 50 women working with my wife.
In the B'nai B'rith, we used to distribute powdered milk for a few thousand kids every morning. The kids received milk and biscuits, so they would have the nutrition they needed.
We also have Rotary in Panama. Every major charity in the world is here.
(Providing a center that gives support in science, English and vocational training for poor youths, the B'nai B'rith, Panama, pictured.)
Posted October 26, 2015