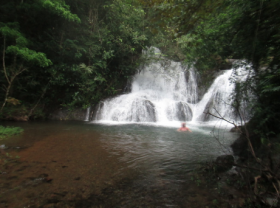 The geography in Panama is as beautiful as it is varied. El Valle is up in the mountains and has a cool temperature. Boquete is up in the mountains with a cool temperature and has ancient volcanoes. There are rivers, waterfalls, swimming holes and lakes. In western Azuero where I live, we have an abundance of rivers, waterfalls, and swimming holes. Waterfalls come right down to the ocean, out of the sheer rock cliff. Even during the dry season, waterfalls and swimming holes are still flowing in our neighborhood.
We have rainforests here. It's not as much like 50 years ago but we have national parks and rainforests. There's rainforest along the Caribbean side, which is a lot denser here than on the Pacific side, which has more development. The most dramatic beautiful beaches, coves, inlets that you can imagine are in some remote places but are very expensive to go to.
There are beautiful islands and beaches, however, which can still be purchased for $1,500 an acre. An example is Cebaco Island, which is right in front of Western Azuero. It is a beautiful, big island and there are lots of properties. About six years ago, Harvard University bought 2,500 hectares of land (more than nine and a half square miles) on Cebaco Island for a research facility. Some biologists conducted their research at the Harvard Project just a couple of months ago there.
Posted May 21, 2015