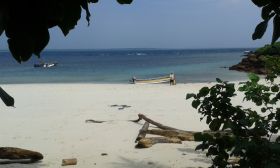 Isla Iguana, Azuero Peninsula Los Santos Pedasi Panama
Panama is well known for its many islands, both on the Caribbean and Pacific ocean side. There are about several major islands in Panama:
The San Blas Archipelago consists of well over 200 islands, some of which are made entirely of corals.
Contadora, of the Pearl Islands.
Solarte.
Boca Brava in the Gulf of Chiriqui, with crystal clear waters and plenty of coconut palms.
El Porvenir Island.
Nargana Island.
Now, to tell you about Panama´s Best Kept Secret of the Pacific Coast…that is now getting out! Pedasi and the Azuero Peninsula is becoming quite the tourist destination. In the past it was mainly surfers visiting Playa Venao and Panamanians wanting the peace and tranquility that the small laid back village of Pedasi exudes. Now more visitors are making it one of their destinations. There are two main islands just of the coast of Pedasi: Isla Iguana and Isla Cañas.

Isla Iguana (pictured above) is a National Wildlife Refuge and home to the largest breeding colony of frigate birds in Panama. The males are the ones with the bright red throats and the ones that sit on the eggs to incubate them.

The white sand beach is made up of fine corals which are found around the island. Great for shallow water snorkeling. On the backside of the island you can enjoy seeing humpback whales with their calves and males putting on a spectacular show as they court the females. On the way out to the island you will likely encounter sea turtles swimming near your skiff or a pod of dolphins will join you as they jump and display their agility in the sea.

Isla Cañas is a larger island which is inhabited by approximately 800 Panamanians. They live a laid back lifestyle coveted by many of us. The island is well known for its large sea turtle nesting sites. The island residents are very keen to protect the nesting turtles and their eggs.

These islands and the surrounding areas are well known internationally for fishing, diving snorkeling and boating. MTV is filming an outdoor reality program in Pedasi and Azuero Peninsula during August and September 2014.
Posted July 28, 2014