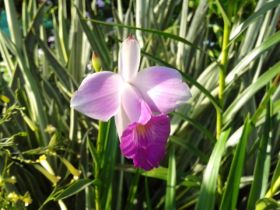 Yes, you can see beautiful flowers, plants, and trees in Panama and you will always see them. There are all kinds of plants and flowers in Panama that you can observe. Some people ask, "What's the best season for flowering?" But really, there is always something blooming here, regardless of the time of year.
Boquete has a flower festival in January. El Valle de Anton has great, beautiful flowers. When you walk out the forest and go to the rivers and lakes, you will see all kinds of fabulous flowers and different shades of green, unique plants. It is great.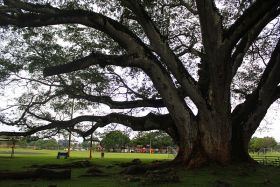 We have orchids, heliconia, and there are flowers that are part of the poinsettia family. There are wild ylang-ylang, from which they make perfume. We also have big white night-blooming flowers and the guaiacum tree, which every dry season blooms yellow. There are flame trees that have a bright red color. You will also see barrigon trees here, which are the big belly trees. Another is the espave tree, which is a very tall tree that the Indians used to make their dugout canoes out. It was named espave because that was the short for the Spanish word
esparave
r, which means "to see," because the Spaniards would climb that tree to see where they were, when they were first out here exploring.
There are lots of different trees like the Panama tree, the guaiacum, which is in the oak family, teakwood – we have teakwood plantations, but they are not native to Panama. There are 40 different varieties of palms in Panama, including coconuts. There are also pine trees and bamboo, but they were all introduced.
There is also the cuipo tree. A cuipo is a very tall tree that doesn't have any branches until the top, which is usually taller than the rest of the canopy. That is the tree that the harpy eagle, which is the largest eagle in the world and is found here in Panama, uses to nest in.
Posted December 15, 2014