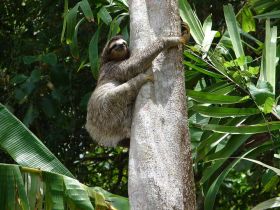 Panama is home to an incredible variety of wildlife, most of which you can see all year round. Besides the incredible birding, there is a rich variety of insects, mammals, marine life, etc.
Close to Panama City, there are many places where you can spot wildlife. Besides the Metropolitan Park, we recommend PARQUE SOBERANIA, the park surrounding LAKE GATUN, mostly because of how many different species can be found in the area. Lake Gatun is a unique ecosystem that every visitor should cross off their Panama Bucket List.
Sloths, monkeys, a rich variety of birds, insects, etc, are just a few of the species that you can see on a one day adventure.
Posted August 29, 2015