There are many, many ways to the see the Panama Canal. Which one is the "best way" depends on each person's tastes and interests. Basically, I can sum up all the different ways as follows:
As others have mentioned, the Miraflores Visitor's center gives you one of the most complete ways of seeing the Canal, as it combines the locks, vessels and history of this giant undertaking.
Another popular way is to enjoy the train ride that is parallel to the Panama Canal. The train takes you from Panama City to Colon and follows the Canal passageway, which gives you a unique perspective on the Canal.
Many people enjoy the Panama Canal transit, as it is the only option that actually takes you through the locks.
The last way to see the Panama Canal is to experience it from within. Some might not know this but Lake Gatun and the Chagres River make up 70% of the Canal. Visiting either of those two will give you a unique perspective on the wildlife, flora and other interesting things that make up the Panama Canal.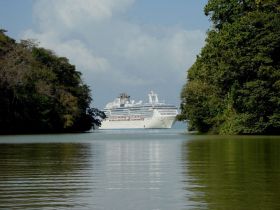 I have taken the liberty to post a very interesting video that shows some of the huge ships and vessels going through the Panama Canal. All of the scenes where taken from within Lake Gatun (Option number 4). I hope you enjoy it!
Posted July 17, 2013