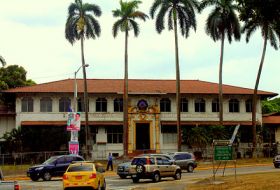 The Latino culture here in Panama and in general is typically very polite. For example, if you and I were in a theater and I wanted to walk between your knees and the seat in front of you, I would be using the phrase, "Su permiso," which means "With your permission, may I pass in front of you?"
Another example is when people get onto a bus or on any form of public transportation, they will look at everyone and say "Buenos días" to everyone. Panamanians are very amiable and very polite.
The Spanish language as a whole isn't offensive or direct, unlike how English can be. English is great for math and businesses, but some people in other parts of the world are almost offensively direct.
Spanish isn't that way. Spanish goes up around the bend and out the back door. People here in Panama will typically never tell you anything you don't want to hear, and that is something I don't really like. The Panamanian culture is a culture of non-offense.
Here in Panama, when somebody comes to your property, it's considered very offensive to walk up to the door. You have to stand on the road or at the yard and say, "Hola! Hola!" to get permission to enter into the yard.
The rural culture that came out of the ghettos of East L.A. is a culture that is seen throughout the world. When I was in Eastern Europe, I could see that culture there. It's what you and I call the culture of rap, or the gangster mentality, and it's here in Panama. It's everywhere in the world and it's a very loud, abrasive, in-your-face type of culture typically involving younger people with loud music that I don't resonate with. It's something that's come in the last 10 or 15 years through music.
By American standards, the driving of Panamanians is aggressive. They use the horn too much, but it's because there are too many people. Their traffic flow is superior to ours in the United States because they're always inching forward, and when you have a lot of cars in a small space, nothing moves forward if everybody waits for everybody else.
In general, Panamanians don't stand in lines well. They don't get the concept that you take your turn. It's really a mixed bag: on one side they're very, very polite and almost non-contact, and on the other side, it's what you and I take for granted coming out of our culture, like the distance and space. People get closer to each other and talk louder than what normally you and I would see in the United States. It's cultural difference.
(Former YMCA Panama Canal Zone, Panama, pictured.)
Posted April 30, 2017