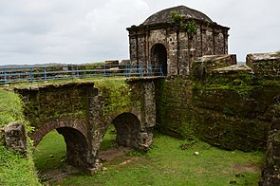 From the time it was a Spanish colony in the 15th Century, Panama was the center of commerce to the American continent, especially with regard to the gold that left South America for Spain. This left an invaluable history in Panama, in which the city of Portobelo, in the province of Colón, played a very important role. Colón was the location of the construction of the Interoceanic Railway, which today moves thousands of passengers between the cities of Panama and Colón, to the delight of tourists, bordering the Panama Canal, and being the transportation center for millions of cargo containers that transit through the canal, for the convenience of world trade.
The construction of one of the Eighth Wonders of the World, The Panama Canal, completed in 1914 and recently expanded to accommodate Panamax ships, makes Panama an exemplary economy among the nations of the world, despite being such a small country.
Panama is country that welcomed thousands and thousands of foreigners with a single dream: work and provide for the well-being for their family. Workers from the Caribbean, Africa, Europe, the United States and Asia came. Each group contributed their culture, language and qualities, in which Panama and its people, in harmony, could live pleasantly, to this day, when again a massive influx of foreigners seek a refuge and economic prosperity in our beloved Country, which, although small in territory, is enormous in heart.
For that, Panama has always been, is and will remain, "Heart of the World, and Bridge of the Universe", where all races live peacefully, as long as they bring peace and good intentions, without racism, without tension, following the law of God and the laws of a country that welcomes them with affection.
Panama has an enviable climate, which attracts many foreigners as well as very competitive prices compared to other countries, where foreigners feel much more comfortable than in their own countries, especially in basic needs of light and water. Panama is a fertile land where fruits and vegetables of all kinds are grown and sold at a very good price, especially if you buy them in the famous "peddlers" at the traffic lights.
Speaking of the family, Panama has many interracial families. There are many families in the Middle East living together here, especially those who have business in the Colon Free Zone area. Bi-cultural is very normal in Panama.
India and China has a major community in Panama, as well as the US and Europeans. Expats feel at home. One thing that is certain is that Panama is a GREAT COUNTRY, where you can live a quiet life, a family life. Of course, like any cosmopolitan country with so much advancement and development, great buildings, great international business, and advanced technology, Panama City is not free from dangers found in every great city. So always a visitor should be cautious and be careful not to stay in dangerous areas. And if you enjoy nature, culture, simplicity and live a country life, visit to the "interior", passing through the tourist corridor of beaches and mountains, which is a very beautiful experience.
Due to the large number of foreigners looking for residence, house prices have risen, so those looking for a transfer, or a retreat here, must do their research well before making their decision.
And for those visitors looking for tranquility, adventure, sunshine, scientific work and something different, Panama is going to receive their visit with joy. Panama does not promise new residents to live up to great nations like the G-8 group where they are great powers, but what we have, we offer with simplicity.
There is a lot of sophistication in Panama City. For example, you will see that Panamanians' dress code is very high.
Panama is, has been, and will continue to be ... a beautiful jewel.
(The ruins of Fort San Lorenzo, near Colon, Panama, pictured.)
Posted August 19, 2017