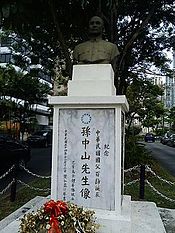 Panama is a country of 3 million people that have a mixed heritage. First were the indigenous Indian tribes that are distinctly different from each other. Then you have the Spanish who created a new race of mestizos when they mixed with the Indians. Panama also still has the forbears of the original Spanish settlers, be they of the conquistadores or those escaping the persecution of the Spanish Inquisition. Additionally the slave trade brought many here that have integrated for the most part into the bloodline of Panama, so that many Panamanians are Indians, Spanish, and black.
There's another mixture that is very significant, which are the Chinese. There are many thousands of Chinese in Panama that came initially to build the canal railroad, so you find many Panamanians with Chinese family names.
I had lived in Hong Kong a long time, so I was very happy that there are so many Chinese people and Chinese influence in Panama. There are many products that I can get from China as the Chinese here dominate local grocery chains and not least, shipping.
On the fringes of the Panamanian culture, indigenous people suffer the deepest poverty, and the most neglected people are those black communities that have not integrated into the mainstream of Panama. Primarily blacks inhabit these shantytowns. I've heard people refer to them as runaway slaves referring to the history of these people brought over with the slave trade eventually starting their own communities in remote places but economically they have had few advantages to progress.
Prejudice always exists on the fringes in Panama, as opposed to the mainstream in the US.
(Sun Yat Sen monument, Panama City, Panama, pictured.)
Posted October 07, 2016