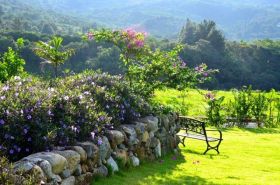 The cost for a gardener in Panama depends on the amount of time he spends working for you. For example, hiring a person as a regular employee where he works daily will have a different rate than if you hire him to work once or twice a week.
The minimum salary for gardeners, cleaning service, and other similar kinds of services can be around $300 a month. A gardener who works casually can charge around $20-$30 per week or per visit. The area where you live is also a factor in the rates a gardener may charge. If you have a big lawn or garden that he will have to tend to, the gardener may charge more.
For example, if you had a 1,000 sq. meter lot (about a quarter of an acre,) with a lot of plants and you have a gardener come in once a week for 8 hours to take care of everything, it would cost roughly $20 - $25 per week.
(Landscape around Alto Boquete Condominiums, Boquete, Panama, pictured.)
Posted July 22, 2017