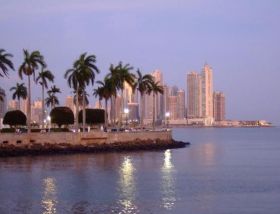 The monthly rent for an apartment in the Panama City, Panama area of San Francisco is US $800 at the low end, up to $15,000 per month, which would be the luxury apartments. There is a wide array of pricing in the San Francisco area.
For $800 a month, you could get a small, one-bedroom apartment off of a side street in the restaurant area of San Francisco. It would be between 60 to 80 square meters (about 650 to 860 square feet) with a bedroom, a basic kitchen and a basic living space. Generally, the apartments that are rented out here in San Francisco are furnished. Usually, the renter pays for the electricity, cable, and Internet separately. Most buildings have natural gas for cooking and the gas and the water would be included in the price of the rent.
For $1,500 a month, you would end up with a nice studio or one-bedroom apartment but you would be closer to the Panama Canal with an ocean view. They are generally about 70 to 100 square meters (about 750 to 1,070 square feet). Some are a bit larger. The price changes depending on how close the building is to the water, if you have an ocean view, and the amenities. You would have more amenities in the building such as a gym, racquetball or squash courts, etc. These apartments are located in a safe area because San Francisco in general is one of the safest areas of Panama City.
If you get an apartment in the low-end area of Punta Pacifica, you can get into some of the buildings on the outskirts or Punta Pacifica for the price of $800 per month. Punta Pacifica is the luxury enclave of buildings here, essentially a cul-de-sac with a dozen buildings with a lot of security. Many of the expats and multinationals who work for large companies enjoy living in Punta Pacifica because of the safety. Because of the central location of Punta Pacifica within Panama City, you are close to the banking district, to the malls, and essentially close to everything. You are close to the highways where you could easily get to the airport. Punta Pacifica is a very centralized and safe location.
(Looking across the Panama Bay at skyline of Panama City, pictured.)
Posted September 24, 2015