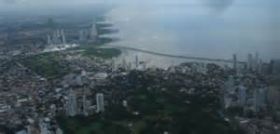 Retirement in the San Francisco area of Panama City would be a very nice, relaxed, non-stressful way of life.
Because the people take advantage of the markets to get fresh proteins or fresh seafood at lower cost, people who are living and retired in San Francisco have a lot time to enjoy the local markets and the restaurants in the area. San Francisco is not an inexpensive area, but it's not an expensive area, either. It is more of a mid-priced neighborhood. Within the area of San Francisco you've got Punta Pacifica, which I would consider a high-priced neighborhood, but San Francisco fits perfectly into the budget of most retirees living on a fixed income; they can live very well there.
We've got the largest urban park in Panama City is in San Francisco, Parque Omar, which is a beautiful park. You can go there any you forget that you are in the city because it has trees, birds, and nice walking paths / trails to do some exercise or get around.
(Aerial view of Parque Omar, San Francisco, Panama City, Panama, pictured.)
Posted August 31, 2015