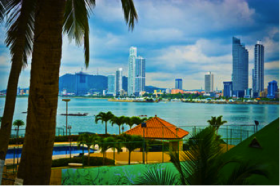 The beautiful thing about having the Panama Canal here is the Panamanians are so used to seeing expats for over a hundred years. Panama City is populated with lots of people from lots of different parts of the world, so expats are not even noticed, which is not the case in other Latin countries where they love seeing expats because they haven't seen expats.
In Panama, if you go to the grocery store and look at the hotdog section, it's 30-feet long sometimes. We've given the Panamanians the hotdog! If you go to the movie theater, you will find that half of the movies are in English because a lot of Panamanians love watching movies in English with Spanish subtitles. Every movie that would be on in the US is here.
The Paitilla area of San Francisco has the highest percentage of expats because of Trump Tower and all the other high-rise buildings there. San Francisco would have a smaller percentage of expats than Marbella but very similar. If you were an expat in Colon, you would stick out even though there have been millions of expats before but that is not the area that they settle in now. So it's not like Panama is perfectly homogenous, it's just that San Francisco, Marbella, and Panama City overall happens to be the places that are popular for expats.
(View of the Bay of Panama from Panama City, Panama, pictured.)
Posted May 22, 2016