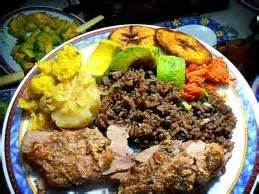 San Francisco is one of the nicest neighborhoods inside the city of Panamá. And, as in any cosmopolitan and modern city, you can buy the finest products and a great variety of groceries.
The only difference with other cities, for example, in the United States, is the price. Panamá is blessed to have wonderful, warm weather all year round, which is the reason why you can find many seasonal fruits and vegetables that you cannot normally find in other cities. Only when flooding occurs in the country, prices might go little higher that usual.
For example, you can get a 10 pound papaya (which contains the most fiber and nutrition) for approximately $3.00 the most; or a big pineapple for about a $1.00, while in the US costs about $7.00. These are big differences. Beautiful green, orange or red peppers, culantro (slightly different than cilantro), parsley, onions, garlic, lettuce, celery, chayote, mangoes, squash and other vegetables can be purchased in mixed bags for about $1.00 or $2.00 in some places, or at 50% less than the US in the supermarkets.
And, talking about white rice, Panamá offers a bag of 20 pounds for $10.00, or beautiful fresh oranges from the province of Chiriquí for $2.00 the bag of 100. Who can beat that?
(Typical Panama meal with rice, beans, plantains and yucca, pictured.)

Regarding beef, Panama is famous for their quality. Prices range between $2.68 and $10 (filet mignon), while in the US beef, chicken, pork and seafood is so expensive. Yard fresh eggs, maybe $2.00 per dozen are easy to find everywhere.

Fresh bread in bakeries, some of them, inside the supermarkets are at ridiculously low prices.

Seafood is Panamá specialty. Corvina, considered the best of the best fish, is one of Panamá's best-known dish, and depending the season, runs between $1.75 and $2.75 per pound. Lobsters, crabs, shrimp and other seafood can be found everywhere at very good prices.

What is highly expensive, by Panamanian standards, are some imported items, and, believe or not, the famous "TV dinners" that in the US are lower, but personally, I avoid them, because of the many calories and sodium. Panamanians are more into fresh meals, not pre-cooked or preserved.

The most common dishes are: arroz con pollo, plátano en tentación, frijoles rojos or "porotos", lentejas, flan, ensalada de repollo conremolacha, sopa borracha. (Translation: rice with chicken, sweet yellow plantain, red beans, lentils, flan, cole and beet salad, and drunk soup, which is a dessert specially made for weddings).
Posted September 21, 2015