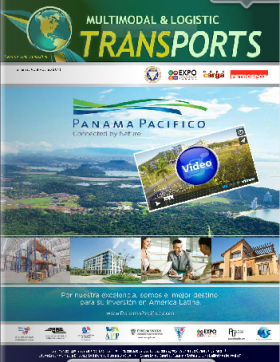 Since the 15th century, Panamá has been an exceptional trading center, covering all continents, mainly America, Europe and Asia. One of the prime reasons for this was that gold was one of the most attractive trading commodities, especially from South America to Spain and England.
Since that time, Panamá has experienced tremendous growth, and today, is one of the most prosperous countries. As other countries went through a recent economic crisis, Panamá was the #1 destination for business, tourism and retirement. This little but wonderful country with a population of only a little over 3 million people offers anything and everything, including year round beautiful weather without snow, and no earthquakes, tornados or similar disasters. It also offers cultural richness from around the world, the result in part from thousands and thousands of people from all over the world who came for the Panamá Canal construction at the beginning of the 19th century. Today, Panamá is back to the place it occupied in the 15th century: a land with great opportunity for everyone who wants to come in a respectful way to the country and its people, to have a good quality of life, lower cost of living, and to take advantage of its marvelous nature and environment; mountains, rivers, beaches and much more.
The cost of housing and land in Panamá has increased substantially since thousands of foreign retirees and investors have moved here seeking better opportunities, as their dream. Maybe Panamá is not the ideal place for everyone, but it certainly is a place to consider after you do your homework on exactly what are you pursuing. Visit the country several times, talk to professionals (locals and foreigners) and do not buy anything until you are certain.
For experience I can tell you that the quality of life is higher and the cost of living is much lower than almost any city in the United States, except for housing and land. Where else can you drive to do your fresh fruits and vegetables grocery shopping in the car in every corner in the city of Panamá, at almost half price of the supermarket? (And if you go to the "interior" (country) it is even better.)
Panamá offers many opportunities for foreigners to purchase businesses, from beauty parlors to sophisticated corporations, in small towns, or on Panamá Pacifico (the most attractive trade special zone, with special benefits), the Free Zone (in Colón), or any other town. But in doing this, the purchaser has to be very careful what they purchase. Everything is very competitive. Do not buy the first thing you see. Make a true marketing study with a serious local company. Do not rely only on some comments or individual suggestions. Most of the time, that doesn't work, and the business may have to be closed months later, after spending thousands of dollars, because it was a mistake. I've seen this many times, unfortunately. Remember, not everyone is honest. And not every place is suitable for certain types of business.
Panamá is mainly about services, and it is saturated with all kinds of them. But, it is still fast growing in the maritime, logistic, tourist, ports, containers, electric plants, environmental issues, and technology sectors. If you can come out with a real good new idea, you are in, because everyone welcomes new things.
Here are some suggestions:
Entertainment parks or places, especially for children.
A nice buffet cafeteria, offering good quality of local and international food, even if it's only soups and sandwiches with good "shakes" and coffee and drinks, where people can stop by and get together, or travelers crossing the country can stop.
A theater in the interior, especially a children's one. There are movies, but not theaters in which to bring international cultural events, even if they are seasonal. Panamanians love to attend, and so would many foreigners.
In the area between Darién and Coclé, in Colón, you can offer a tour to the thousands of tourists arriving in Colón via cruise lines. Not only would it bring prosperity to your business, but to the country as well, and you will get the great satisfaction of contributing to your guest country as well. (This would be similar to what you see in the Netherlands' wood shoes factory and the Tulipan exhibition that attracts millions of visitors.)
Anything having to do with the expansion of the Panamá Canal. In 2016, there will be a boom of needs for everything.
Be very careful with real estate... not that shines is gold.
Panama is not an industrialized country, which is one of the prime reasons why any industry is welcome. My best suggestion for locations would be around Veraguas, Coclé, Herrera, Bocas Chiriquí, Los Santos or Darien provinces. Excellent sources for workers would be graduates from vocational schools like Chapala (in Arraijan) or Don Bosco (Panama city). You will have several Indian villages located conveniently close by.
Whatever service or product you offer, make sure you offer good customer service. That is the key.
The most important thing is to contact the right people, such as an attorney or accountant that comes highly recommended. Do not associate with anybody before you are totally certain that person has a good reputation, and please, nothing political, which could ruin everything.
Permits are very hectic in Panamá, and setting up a corporation is kind of expensive, maybe between $1,000 and $5,000, depending on the attorney (you need an attorney for that). The annual government report at the present time is $350, the Legal Resident Agent (attorney) charges about $250 to do one, and every corporation needs to file.
As well as permits, Panamá labor laws are very strict, and you should be very careful with employees and benefits. There are many foreigners out there without the proper legal papers who are seeking under the table payment. A good option for employees could be graduates from local schools, like St. Mary's, the Inter-American Academy, Instituto Pedagógico, St. Vincent de Paul. Others are very well qualified and bilingual.
There is much more to say about purchasing business in Panamá, but I think I went on long enough. Just be careful and purchase a business that you can handle and one of which you have knowledge; otherwise, just like anywhere else in the world, it will not work.
(Cover of Multimodal & Logistics Transports magazine, pictured.)
Posted December 21, 2015