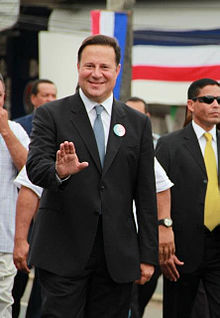 Panama just elected a president and the buzz all around is that people are waiting to see what he can do. In the western Azuero, where we live, there are lots of things that we need to have done, and the President has been in Western Azuero thrice already in only this year. He was just here in the beginning of April. The government has made a lot of promises to our community.
Unfortunately, we had been left in the dark by our previous presidency and he had made lots of promises. However, it looks very positive with the current government.

Each change of presidency is a change of everything in the government. The change trickles down to the officers and even at the departments at the embassies; even in the United States, they change personnel. The new government generally puts in new people. That's probably the same worldwide. You just didn't notice it that much like you would in the States, but I do here. One thing great about this current president, is that he has kept a lot of the previous personnel, those who were good from the last administration. That's why he's been given a lot of respect. I say only positive things for the current Panamanian government, and they're pulling out the red carpet for international foreign investment and international residency.

The Panamanian government is stable. We are a democratic nation. We vote. I see Panama as one of the most stable nations in Central America. As a businessperson, I am not concerned that there would be a government change that would cause my business problems. Since Panama took over the Canal, they have been making excellent government and business decisions. I see a very strong commitment for them to be a First World nation.
(Juan Carlos Varela, newly elected president of Panama, pictured.)
Posted May 04, 2015