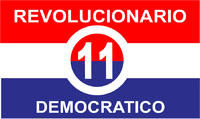 We had right-wing government headed by the former President Martinelli. Now, the new government I would say more to the left.
Panama changes its government every time without fail. Here in Panama, there are three political parties, and they all seem to take turns, one after one another. So the politics change from one extreme to the other, per election.
As a foreigner and a businessperson, I think a bit about what government is in power. For example, under this government, the workers have more rights. We've had more checkups for the workers and we obviously abide by their rules. I respect my staff so as long as we comply, and they have toilets and a canteen and we do everything like a human being should have, you're fine.
(Flag for the Democratic Revolutionary Party, in Spanish, Partido Revolucionario Democrático, or PRD has 26/71 seats in the National Assembly, pictured.)
Posted August 26, 2015