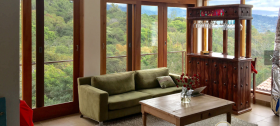 For the most part, your land investment in Panama if you purchased titled land is completely safe and secure. In general, I feel completely safe living and investing here in Panama.
If your asset is real estate in Panama, and you have titled land, you're completely protected. The land title experience here in Panama is very similar to what you would experience in the United States. If you buy a piece of titled land and it becomes yours, then that property is yours without equivocation.
There are situations that if you're a vacant owner, that people can come in and "squat" your property over a period of successive years. If you're gone for 10 years and you show up, and there's been a family who has squatted your land and built some little makeshift hut on it for the last three years, and they said that they manage your land, then that can become a situation, but there are ways around that as well.
There are strategies that you can take that alleviate a lot of those concerns. One of the strategies include not putting your house or your business in the same name that you keep your money – something a lot of people here in Panama do.
For example, if John Gilbert has a personal checking account, he is not going to own his business in the name of John Gilbert. Instead, he will open a corporation, and then put his business under the name of the corporation. If you do this, then corporate life is not intermixed with his personal life, and the government can't come in and take all your personal checking and savings money if someone sues the corporation.
In criminal situations here in Panama, you're guilty until proven innocent. I've never been in a personal situation where I had to face any kind of legal issues here in Panama. I'm not concerned about it.
I haven't met people who have been personally injured by the legal process here in Panama. On the contrary, I have met people who have been protected by the legal process here in Panama.
The laws are not built on the US constitution, however, so the laws are certainly different here, and there are nuisances of the law that are different here than in the United States and anywhere else for that matter.
(Home in the hills of Volcancito, Panama,pictured.)
Posted June 14, 2017