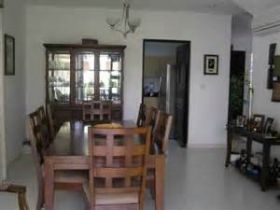 I haven't really lived in the US and Canada. From a European's perspective, the apartments in Panama are big. They don't have small shoebox apartments like they have in Europe. The average apartment here in Panama City is 80 to 100 square meters (about 860 to 1,075 square feet). It's easy to find a three-bedroom, 200-square meter (about 2,150 square foot) apartment in this city, or a two or three-bedroom apartment. There are plenty of those because there are so few houses, I suppose.
A big apartment in Europe is 70 square meters (about 750 square feet). They're more compact. But here, anything from 100 to 200 square meters would be average.
The floor plans are not any different in Panama City that I would suppose in the US or Canada, except that, in Panama City, most of the apartments have balconies.
It seems to me, and this is more recently, the last five or seven years, there doesn't seem to be the same quality control in Panama City that they would have in European apartments. If you get something built here, it won't look very good in a few years, in my opinion. I think they cut some corners, maybe on the materials they use. The workmanship is just not as good.
(Panamanian apartment, pictured.)
\
Posted November 18, 2015