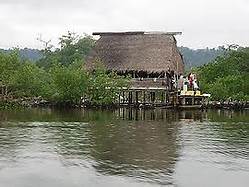 If you are creative, with a properly structured retirement account, you could take a loan from your retirement account, tax and penalty free, to come up with a down payment that you may not otherwise have. You may need a larger down payment than you are accustomed to in the U.S. Panama banks are better capitalized than U.S. banks.
Your financial advisor or tax attorney will likely not understand how to do this.
Talk to someone who knows about these options specifically.
(Typical house on stilts, Bocas del Toro, Panama, pictured.)
Posted February 21, 2016