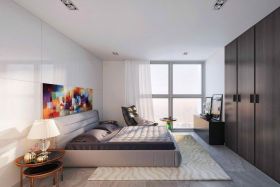 There's a program in Panama on new construction that provides a 20-year exemption on property taxes. There have been some changes recently. Now the length of time of the exemption is on the value of the property, according to a scale. A million-dollar property is exempted for 5 years, and as the price of the property becomes less, the amount of years on the exemption gets longer. So if it's $100,000 property, you get a 20-year exemption. If the property is worth $500,000, I suspect you would get a 10-year exemption.
The exemption goes with the property, not with the person. You don't have to do anything when you buy it. You have to register it, so if you sell it to somebody else, it's already registered.
If you had a property that had, as an example, a 10-year exemption, and the first person had it for 4 years and then you bought it, you would have 6 years remaining on that exemption. The property has a birth date.
(Bedroom in King's Park, Panama City, Panama, pictured.)
Posted December 23, 2016