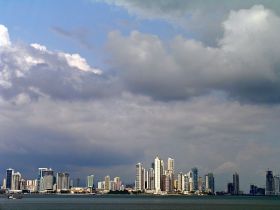 Most of the cities of Panama are on the Pacific side. The main cities are Panama City, David (which is close to Costa Rica), and in between, there is Santiago, Veraguas and Las Tablas. The big cities are Panama City, David, and Colon, which is on the Atlantic side.
Panama City is full of skyscrapers and you would think that you are in Miami, Florida. It is very modern. We added a Metro a couple of months ago in the city. Panama City is a very busy city and you can find whatever you are looking for; be it food in supermarkets, medical treatment, a car, you name it and you will find it in Panama City.
On the Atlantic side of the Panama Canal is the city of Colon. Colon used to be booming town some sixty years ago during the war because all the ships would stop there, so it was a party place. It had its golden years then. After that, it declined and now it is not a very attractive place to reside. It is a business center for the Free Zone and it has some wonderful beaches, but it is not attractive for living like Panama City.
The town of David is close to the Costa Rican border. It is a fairly large town. You can live well in David and you will have access to the highlands, where the climate is cooler. David is about half an hour from Boquete and Cerro Punta.
You will also find other smaller cities like Santiago, Veraguas, Las Tablas and Pedasi, which are small towns where you will not find everything, but you can always go out to the larger cities, which are generally close by.
To me, Panama City is the place to live because I have everything I need here. During the week we live in the city and on weekends we take off to the beach or the highlands like El Valle de Anton, which are just a couple of hours away from Panama City. El Valle de Anton is a beautiful place. It is the vacation place for city dwellers.
Posted November 29, 2014