As a New Yorker, I was raised on the subway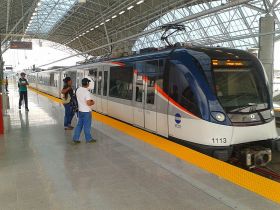 ​and I am still riding the only means of fast, safe and cheap transport available in most big cities around the world. I know the subways of London, Paris, Madrid, Hong Kong, Beijing etc., and now, Panama (pictured to the right). What a difference good public transportation means to a city, and to the country where countless people's lives are enhanced by being able to get to work, events, shopping, schools, etc. without hours of waiting, weather conditions being good and high costs.
Good public transportation is the difference between Panama on the one hand and Costa Rica and the rest of Central America and much of South America and the USA as well on the other. I could never live without good public transportation, and consider it an important part of my decision to live in Panama, as opposed to Florida, California, and the list goes on. Panamanians know that their transport system from local and national buses, to the new subway and not least the multiple passenger taxi system is a great advantage to their lives, and for visitors and expats too, if you get to know it.
From Coronado, I grab a bus at the stop by the Super 99 Mall arriving every 10 minutes up and down the Inter American Highway. For US $2, in one air conditioned hour I arrive at the Albrook Mall bus terminal, which is the hub of public transport. From here I grab a local bus for 25 cents or a taxi for $1.50 and I'm onward to my inner city destination in minutes. I do the reverse for the return trip, safe and easy.
As for the larger domestic travel within the Republic of Panama, here's an example of our transportation for a trip to Bocas del Toro with my daughter this past Spring.
My daughter arrived from NYC at PTY (the main Panama international airport) and took a bus to meet me at Albrook. (On the weekends and at Rush Hour this is not advised, because there is too much traffic.)
Earlier that day, I had purchased two over night bus tickets at the bus terminal there to Bocas del Toro ($50 per person for a round trip), which leaves at 7 PM for a 9 hour trip, stopping at 3 hour intervals at typical rest stops for meals, etc. (Bring a blanket as the bus is well air-cooled and you will sleep like a charm).
We arrived at Almirante for the ferry to Bocas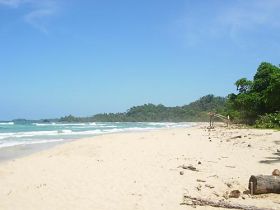 Town at 6 AM, arriving there for breakfast. From there we got into the speedboat, which took us to our 3 day holiday at Red Frog Beach.... Gorgeous!
On the return trip, we did the reverse. The key is to be sure to get your round trip tickets in advance. Upon boarding we requested we be left off at the Coronado Mall, which is where I live. (The driver lists all such requests, which he announces before drop off. You can also request a pick up on your way, coming or going, to any bus destination in Panama or to Costa Rica.}
We arrived at midnight in Coronado and there was a taxi waiting at Rey, the local supermarket. I had called in advance, in order to be sure and we got home to Coronado Bay happy and delighted at the convenience and low cost of the trip. We look forward to many more....
Posted July 21, 2014