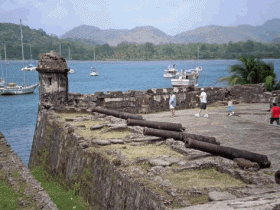 Panamá is by far, a unique place for outdoor activities, due the beautiful weather all year round. One reason that the famous Panama Canal
(and one of the Eight Wonders of the World) was built on this narrow piece of land was precisely because Panamá is blessed and does not have hurricanes, tornados or tsunamis.
Panamá´s beaches are famous for surfing, especially in Gorgona (at around one and a half hours drive from the city of Panamá), and Santa Catalina (near the small city of Santiago, at 5 hours drive from the city), as well as Portobello, on the Atlantic coast, near the city of Colón, where the famous Free Zone is located. Another good place for this activity is Pedasí, in the "Peninsula de Azuero" (central Panamá about 6 hours driving from the city).

Around Pedasí you can find a beautiful environment for various sports, but especially beautiful beaches to enjoy. Also, it is somewhat close to Chiriquí for other activities.
Another great outdoor adventure is water rafting, due to Panamá haing numerous and mighty rivers all over the country, but especially in Río Chagres, in the city of Panamá, and other rivers in the province of Chiriquí.
Panamá is very famous for its golf activities. There are several and very modern golf courses, some of them located in Coronado, and other resorts in the beach areas, as well as outside the city, where international tournaments are considered one of the best.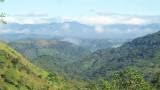 Fishing is very well accepted by the visitors, and several tours are offered for this purpose. One of them is by the "Gamboa Resort," a beautiful place by the lake and close to the rainforest.
Bird watching brings thousands of visitors every year, as Panamá has one of the biggest variety of bird species in the world; the same as butterflies and plants. Many tour operators offer tours at different levels and budgets.
A visit to the Emberá"native village is very popular. You have to take a canoe via the Chagres River to get to a natural rock bridge to their village. You will have lunch and witness dancing by the community, and be able to purchase crafted items made by them, so they can support themselves.
Scuba diving and snorkeling has developed an extraordinary interest lately. Portobelo (near Colón, at two hours drive from the city) is one of the best, as well as Isla Colón in the province of Bocas del Toro (in the Atlantic Ocean). Isla Colón is located about nine hours drive from the city, or two hours in local plane. The beaches and isles there are breath taking. Several resorts, hotels and restaurants offer their services there. Another popular destination for this is Isla Grande, close to Portobelo (pictured). In both places, Portobelo and Isla Grande, you can get excellent lobster, and all kind of fresh sea food at ridiculously low prices.
One thing that you will never find in Panamá is "shooting in the woods" for deer and other animals, which is very popular in the United States, especially in the southern states. Woods and national parks are very well protected here, and Panamanians very jealously protect their animals.
Panamá also has beautiful mountains, some in delicious weather like Boquete, where you can hike, horseback ride, bike, or simply relax by a river in a hammock with a good book and surrounded by friendly local people, who always welcoming to visitors.
Posted March 01, 2015