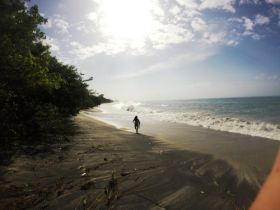 I live on a surf break in the Coronado area called Rio Mar. The waves here in Rio Mar are not huge enough that they are going to kill you but you could get a barrel out of them. The surf breaks here in Rio Mar are surf breaks that people can actually surf on and not die.
There are places on every side of the country of Panama where there is surfing. The world surfing championships in 2011 were held in Santa Catalina (about 6 hours away from Panama City by car) on the surf break there. There is an area called Playa Morillo (5 hours away from Panama City by car) that people say has some of the best surfing in the country but there's hardly anything there so you have to camp out if you want to go surfing there.
There is also plenty of surfing in Bocas del Toro on the Caribbean side. There is also surfing by Portobello. There is surfing all over the country. They even surf under the bridge of the Pan American Highway in Panama City.
(Rio Mar, Panama, pictured.)
Posted June 17, 2016