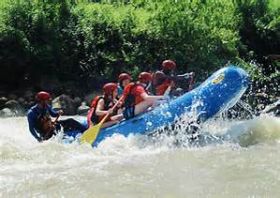 In Panama, as a country, rafting is not very common, but in Boquete, white water rafting is a very popular activity. A lot of people come to Boquete just to experience white water rafting. There are two rivers in Boquete that have enough volume for river rafting- the Caldera River, which is often used, and there's this resort called Boquete Tree Trek that offers the service.
Every time we have clients in Boquete who want to go white water rafting or kayaking, we send them over to Boquete Tree Trek where they can have the whole tour including white water rafting because they have guides who are certified.
Right now, kayaking exists but it's not that popular in Panama. Standup paddle boarding is getting more attention in Panama City. They paddleboard in the beaches in Panama City, specifically in Vera Cruz Beach. Apparently, people want paddle boarding to become a thing, so we'll see.
(White water rafting, Boquete, Panama, pictured.)
Posted February 01, 2017