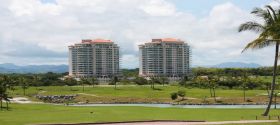 There are around seven golf courses in Panama now. One of them is Vista Mar, which is a beautiful golf course. They have Latin American tournaments there. Coronado has a really nice golf course designed by Tom Fazio. The project that I am in right now is building a nine-hole par three that will have lights, which will be the first lit golf course in Panama. I'll be able to walk out my door and play on a nine-hole course.
Because many resorts are built on golf courses, there are more golf courses than there are regular golfers. You can get on during the week on any of the courses at any time without a big hassle. They are pretty golf courses, but there are just not too many golfers in Panama.
The Gold Coast of Panama, which extends from Chame to Buenaventura and includes what most people would call the Coronado area, has a lot of golf courses. Buenaventura has a beautiful golf course and Vista Mar has a course. Coronado has one, too. Bijao has a course. Casa Mar is going to have a course. Then in Panama City, there is the Tucan Golf Course. If you get out of the Gold Coast and Panama City, Boquete has a beautiful, high-altitude golf course. You look from the course 50 miles out to the ocean. It's just beautiful. Obviously, North Carolina has more courses than we do but we have plenty for any golfer to have a great time.
(Vista Mar Golf and Beach Resort, pictured.)
Posted June 11, 2016